Contact Us

RKSfluid Flow Control Company

Web: www.rksfluid.com
Tel:  +86 24 2318 0188
Fax: +86 24 2318 0788
Mail: info@rksfluid.com Contact Now
Subscribe

Get email updates on new products
News
Maintenance Valve formation in China
Ivory 2018-11-16 12:42:10

On the 23rd of this month, our company participated in the flagship repair center of Sinopec Sales Co., Ltd. North China Branch. Among the participants were Shandong Jinan, Shandong Liaocheng, Shandong Qingdao, Shandong Zibo, Henan Shuyang, Tianjin, Shijiazhuang, Liaoning Yingkou. Waiting for more than ten titles, stations and over 50 participants to participate in the "North China Branch Valve Repair and Maintenance Training"

The training instructor is led by Prof. Yu and Ye Engineer, well known in the industry with decades of experience in valve design and production. The two-day training mainly covers the functional classification of valves, inspection and installation and focuses on the dimensions to which the participants pay close attention. Review, judgment of prevention of common failures, analysis QC&QA On site and on-site disassembly of the valve.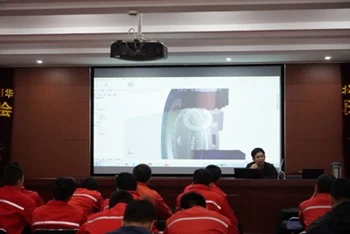 Due to the dispersed work area of ​​trainees and other reasons, training will have urgent and short-term tasks. It is also the first large-scale centralized training organized so far by the repair center, reflecting the high attention paid to maintenance and repair of the valve by the repair center. Based on the training principle "knowledge learning and problem solving", this training received the reception of the trainees and the recognition of the repair center. We will continue to explore the needs of the students in the daily maintenance, overhaul and repair work, and we will organize more targeted and more precise training courses, and we will continue to meet the enthusiasm of learning that students are eager to learn. This type of inter-company communication mode will be promoted of "interaction of learning, mutual exchange and mutual assistance".